COMPUTER REPAIR
We service practically every type of computer repair, whether it be Windows type, MACs, tablets, you name it. We're on it. We can make a service call, or you can save extra by dropping in and dropping it off. The average time for a computer repair is 1 to 3 days. If we need to order parts, might be a couple more days.
PERIPHERALS & NETWORKING
We carry needed peripherals such as Printers, Monitors, SSD Drives, Optical Drives, Video Cards, Controllers, Cases, Keyboards, Mice, etc. We also stock necessary Networking Components like Cables, Switches, Routers, Interface Cards, Servers, Backup Devices, and Drives.
Internet & Broadband
We do it all via our Fiber Optic Broadband Network. We do everything from Internet Access through our iWarp.net Division, to Domain Names, Website Hosting, and web design. Yes, Email servers, too! We can even handle your SEO to help drive customers to your company.
OEM HARDWARE INSTALLATIONS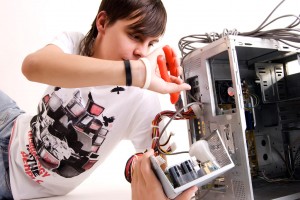 COMPUTER REPAIR - DIAGNOSIS UPGRADES / SOFTWARES
We have all the bench equipment necessary to test, diagnose and replace faulty components. Bring it in, or for a pickup fee, we will pick it up from your location. Once in-house, we will repair your device and bring back the performance you crave.
MALWARE / SPYWARE / RANSOMWARE & VIRUS REPAIR / ABATEMENT
The major problem facing computers and networks today, are the virus type of programs which include; malware, spyware, ransomware and other infections. These programs invade and spread and are the major cause of most slow downs and crashes. 
PRINTERS / MONITORS / PERIPHERALS / POS EQUIPMENT / KEYBOARDS / MICE / HARDWARE
You are able to purchase the computers and accessories you need at affordable prices from our warehouse along with actual knowledge and experience to assist you when you need it while installing and using and yes, sometimes have issues.
NEW & REFURBISHED COMPUTERS, LAPTOPS, TABLETS, COMPONENTS & PARTS
Refurbished computers and peripherals are tested & rebuilt, then tested to make sure they run at the standards they were at when first purchased. These are priced at a more attractive price to help save you money, and backed by the same full warranty . 
IT SERVICE - MAINTENANCE AGREEMENTS & REMOTE MANAGEMENT / ACCESS
We offer a full range of on-site and remote access of retro and prophylactic full discovery management and action plans for IT services. These include scheduled maintenance and preventive strategies, there for the security and prevention of loss.
NETWORK SECURITY / SYSTEMS / BACKUPS / SERVICE / DEVICES & SUPPORT
In today's real world attacks, the old axiom applies that a dimes worth of prevention, saves hundreds or thousands of dollars worth of repairs. For the best outcomes, have the technicians that have worked with these attacks, setup your security apparatus.